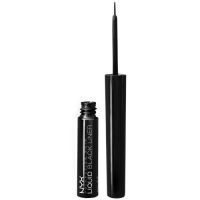 Surprisngly Nice

I had never used liquid eyeliner before (always pencil eyeliner), because I found it hard to use and also because I have kind of oily eyelids so it would always smudge or look terrible after a few hours. After a little practice with this one I was very surprised to find that it looked better than any pencil eye liner that I had ever used before. You could actually tell that I was wearing eyeliner,...read more and it didn't look terrible after a few hours of wearing it. It looked kind of like I had just barely applied it. My best friend even borrowed it, and made a comment about how it dried too fast but looked pretty good on her, and went online to buy one (and she's hard to impress). It make me eyes looked bigger, and prettier. I love this product and when I finish this bottle I will definitely buy another one!

Spread your wings something something Kelly Clarkson reference!!

One bottle of this liner will set you back about only 6 USD. I have had my bottle for years and it has yet to dry out! I intend to keep using it until it runs out or I get pinkeye and decide to have fabulously lined eyes anyways. The formula goes on smoothly and doesn't skip or tug. It is a rather bold black that I love for special occasion looks. The provided brush has good control so let those...read more wings out!! I haven't had any adverse skin or eye reactions to this liner either. It stays a long time even on my greasy skin and does not smudge at all—unless of course you accidentally touch it or blink when it is drying! Dry time is about 5 minutes. I would recommend this to anyone who is looking for an affordable black liquid liner.

Favorite eyeliner

I'm very picky with liquid eyeliner. It's hard for me to find one with a easy-to-use brush, but also very pigmented. But then I came across this NYX eyeliner. It's so easy to use and the color pay off is absolutely amazing. To top it off, it's also very affordable!

Back
to top