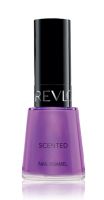 Revlon Scented Nail Enamel
As low as
Unique idea but nothing special

Now, don't get me wrong I own 2 colors and absolutely love Powder Puff ( very light pink with slight silver shimmer) but the scent part is really unnecessary. My step dad can't stand the smell of nail polish and I wanted to see if these made any difference to him and they didn't. The colors are beautiful and are pigmented so they only need 1-2 coats but you can't really smell them until they dry a...read morend the scent only lasts a few days. On the plus side, the color lasts longer then the scent but I feel like because they are scented they cost more ( I would say they are on the higher end of drug store polish for about $6-$7). I will hand it to Revlon for being creative in adding smells to nail polish but I think you should be able to start smelling them when you open the bottle, not once it dries.

Cute!

I love using this polish with my little sisters. They get a kick out of using them. Although it isn't always easy to explain that they have to wait a bit until they can smell it. I don't know if it was just the bottle I was using, but the polish didn't seem to have a great amount of durability. Even when I used my really good extra life top coat it seemed to chip really easily. Other than that...read more, it is a really fun product to use every once in a while when your nail boredom is overwhelming and really great if you have kids. Nail polish never lasts long on little kids anyway. There is a great collection of colors and scents and I'm pretty sure you won't get bored any time soon. Overall, it is an ok product. It is definitely not my favorite, but I will probably buy more just because it is scented. Some of us never grow up haha.

GREAT!

Its absolute perfect except it takes a long time to dry...

Back
to top