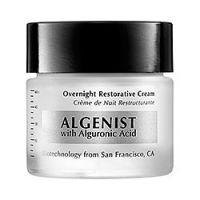 A Dream in a Tub!

My search for perfect moisturizers continues, along with my pursuit of the ultimate eye shadow palette, mascara, you name it. I have been extremely pleased with Ole Henriksen's line of products and seen amazing results, but as the beauty-savvy "Volta" of this site has wisely warned, you need to give skin a break from this line once in awhile, as the potent acids and ingredients they contain can b...read moreecome harsh. Where do I turn? To the Algenist line, for starters, especially their Overnight Restorative Cream. This cream was initially given to me by a very generous friend (emphasis on "generous" here, as two ounces retail for $90.00). Algenist is formulated without parabens, sulfates, petrochemicals, triclosan (just in the news this week for harmful effects!), phthalates, and synthetic dyes. It is replete with alguronic acid, to boost natural cell regeneration and support the synthesis of elastin. It also includes peptides, to support natural collagen and, hence, the structure of the skin itself. Vitamins C and E visibly enhance radiance. Crithmum maritimum extract (try saying that twice quickly!) nurtures cell renewal and helps with density. Although this cream is totally oil-free, it has a rich, solid, satin-like texture which I truly enjoy. It penetrates my skin well; my husband claims that, like "EMK Placental," it gives a "rubbery" feel to my complexion, but that is his way of describing the immediate smooth texture this imparts. The following morning after using this, my complexion has a velvety surface. Any fine lines and creases are definitely blurred (especially the inherited "parentheses" around my mouth area). My face and neck are more taut and resilient. There is a hard-to-disguise radiance (but why would I hide it?). After a week of use, results are very marked and I would proudly walk a model's catwalk with little makeup! Algenist claims that alguronic acid outperforms other anti-aging ingredients. I'm just happy with the results. I was holding on to the last remnants of this when my friend reminded me that she would buy me another when I needed one. Whew--was I relieved! How can I repay her for this?

OMG

I have a very small sample jar of this that I got with a Sephora order awhile ago. I was using it once or twice a week, just to test it out, when I decided I liked it and looked it up on the Sephora site to see what it costs. Yeah. It gets two stars off because it is $90 for 2 oz. Aside from the price, this is an amazing moisturizer. I use as little as possible at a time so this (apparently pricey...read more!!) sample will last as long as possible, and even with minimal application it makes my skin so soft and amazing. It has never caused breakouts, which is very important to me since I tend to be prone to breakouts, especially from new moisturizers. The scent is minimal and pleasant. It's thick, but smooth and not greasy. It soaks right in and even when my skin is super dry and almost scaly (sometimes I miss half a dose of of the supplement I need to keep my skin decent), if I use this before bed, I wake up with almost perfect skin in the morning (still a little dry, if I've missed my supplement--people with normal or even normal dry skin will be fine with this). This cream is so dreamy and if I could afford to buy it regularly I absolutely would.

Algenist Overnight Restorative Cream

I'm a big fan of this gentle, not greasy, not heavy overnight cream. I am in my 40s and have combination skin w/ occasional breakouts, but this cream seems to cover all the bases for me. It also leaves your skin super soft. It is pricey but I value the quality and integrity of the ingredients -- and I find that it spreads so well you really don't have to use much to get full coverage. In fairn...read moreess, I don't use it on my neck. My SIL works at Estee Lauder, so I use whatever goodies she brings me for free. I give it a 9 because there's always room for improvement in a product I suppose.

Back
to top