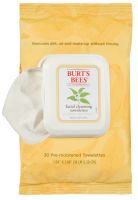 Refreshing, Natural Way to Very Clean Skin

On nights when I truly behave myself and practice what I learned in modeling school, I begin removing my makeup with Pond's Cold Cream or a similar product. Lipids bonds together; Pond's gets rid of heavy, waterproof eye makeup, the rest of my cosmetics, and all of the imbedded oil and grime of the day. Some nights, I will follow with a cleansing towelette by Neutrogena or Burt's Bees. One of ...read moremy modeling school instructors reiterated that your pores can never be too clean, and I concur. Then I follow with cleanser, toner, serum, moisturizer, you name it. There are evenings when I'm tired and I settle for a facial cleansing towelette alone. I do LOVE Neutrogena's--they remove everything so easily and gently. But I also love "Burt's Bees Facial Cleansing Towelettes." A pack of thirty costs around $5.99 (you can normally find them on sale). While Neutrogena NEVER lets me down, I like the fact that these are nearly one hundred percent natural. The towelette itself is a comforting fabric. Ingredients include aloe vera juice, glycerin, green tea and cucumber extracts and soybean oil, for starters. I like the towelettes which contain white tea extract. They are oh-so-gentle to eyes (perfect for those with allergies and sensitive skin) but potent all the same--I have no problem removing eye primer, shadows, liner, waterproof mascara, mascara products, and the rest of my makeup. The scent is a natural herbal one. Sometimes I get some on my lips, but I don't have that repugnant, bitter taste that some towelettes leave behind. My skin is exquisitely clean and feels refreshed, as if I had just used a toner. Only one sheet is needed for thorough use. The problem is that I feel so fresh that I am tempted to skip the cleanser, toner, serum, moisturing part of my routine. Time has taught me not to do that. Clean skin is good skin. They BEAT that into me in modeling school!

Nice Enough

Although I prefer not to use facial wipes to remove my makeup, they are nice to have on hand for extra lazy evenings. I got a free pack of these and have been liking them when I use them. These have a light smell that goes away after a few minutes which is nice. I find that they aren't as effective as the Neutrogena wipes at removing all of my makeup. However, these are gentle and I appreciate...read more the light fragrance. Some makeup wipes can sting my face, but these don't at all. These are reminiscent of the Yes to Blueberries makeup wipes, but they aren't as strong smelling and they cost less money. Still, if I were to buy a full size package of wipes, I would probably get the Neutrogena ones because they are better at removing makeup.

Very Good & Gentle To Eyes

I've recently been having issues with makeup removers and makeup remover wipes making my eyes burn. I have allergies and it may be just worse lately or my eyes are getting more sensitive. With that in mind, I have been trying more natural products to see if they are less irritating. These wipes are gold and I am thrilled to find them. The package is the standard "peel open the front flap and g...read morerap a wipe" that we've all become familiar with. The formula is very natural and gentle and did not irriate my eyes, my skin or cause me any breakouts. It takes all my eye makeup off, although lots of eye makeup, or very dark eye makeup, may require some rubbing and possibly a 2nd wipe, which I can live with. The scent is very herbal and some may not like it, as its strong but I find it relaxing. Its also not drying to the skin and is great for lazy nights since you could get away with not using a moisturizer.

Back
to top