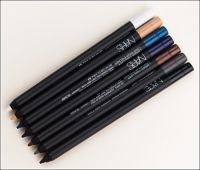 BEST. LINER. EVER.

Nars Larger Than Life Eyeliners have become my favorite for the following reasons. 1) Fastest dry time ever. It dries in 30 seconds, which is so much faster than other liners such as Make Up For Ever or Urban Decay. Try this test. Mark your and and wait until 30 seconds has passed, then rub your hand and you'll notice how this does NOT budge. You also get very rich colors too (Via Veneto is a pure...read more jet black). I also love the shade Rue Bonaparte (perfect beige for lining your waterline to create an open-eye look). Since this eyeliner won't budge (at least it's less prone to budging and smearing), less mess is made (you have to worry less about your liner melting off). Second--this pencil is retractable. DO NOT try to sharpen it (you have NO idea how many people I know have ruined it because it looks and feels like a traditional pencil). Also, there is a cap at the bottom end of the pencil which you can remove and VOILA!! A sharpener for your pencil. Nars is always a brand that not only delivers excellent quality products, but also chic gorgeous packaging. This pencil is very creamy. If you like Urban Decay or Make Up For Ever pencils, the creaminess is identical, so it's easy to create your looks with minimal effort. A couple things that could be improved-- first--this pencil is NOT waterproof. It is water resistant Although it is the closest thing to being waterproof, if you cry TOO hard or get wet, you're going to have to reapply. The next thing is that this pencil dries SO fast that you have to work a bit fast to apply the product (Nars created products aimed towards the working woman who has little to no time to put make up on). Let me elaborate--when I put some on on my waterline, I have to work fast to make sure it's an even color. If I miss a spot that looks a little bit sheer, this dries so fast that when you go back to apply some on that spot, your liner starts to "wipe off" completely clean and you have to reapply the liner. Also, these pencils are a bit more expensive than UD or MUFE pencils (one Nars pencil runs at 23 dollars). To me it is worth the price because you get a remarkable pencil that has amazing lasting power. Play around with these pencils at Sephora and you might just fall in love with them too.

Bad for contacts

So many nice things about this liner but it is a disaster in the waterline. I bought the shade Rue Bonaparte (nude) specifically to use in the waterline. This liner goes on smooth and creamy and looks amazing. It seems to wear well, but I know at least some is coming off because it ends up in my eye. I guess I could get over this annoyance except that it sticks to my contacts and WILL NOT COME OFF...read more. Didn't matter how much I rinsed them. I had to scrap a pair of lenses because there was a nude blob blocking my vision. I thought maybe I had applied it sloppily and tried again extremely carefully. Same result. The colors are great and it applies well, but I just can't get behind this product. It is definitely overpriced.

The Best of the Best

I recently asked a make-up professional which pencil eyeliner was the best for long wear. She pointed me straight to this miracle worker! I bought the "Via Appia" color, a dark bronze color, hoping to achieve a more subtle smokey eye. I can't go back to drug store eyeliners after using this! The color is magnificent and the metallic sheen adds a touch of sparkle to my eyes. It glides on smooth and...read more controlled (no accidental raccoon eyes) and gives a precise look. The color stays on all day which for me, is vital in an eyeliner. The color and line look flawless hours after application. And bonus! the pencil is self-sharpening so you don't have to worry about lugging around a mini-sharpener on the go. I can't wait to buy the black and navy colors! I highly recommend this eyeliner.

Back
to top