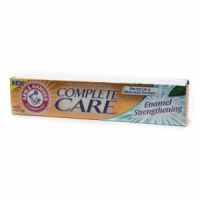 Baking Soda Works!

I mix it with my toothpaste anyway, so why not have it in the formula already? Gently but thoroughly cleans and freshens breath better than almost anything else!

So fresh and so clean

Best toothpaste under the sun. I used to brush my teeth with straight peroxide and baking soda, but it can be pretty gross-tasting. So when this came out, it was meant for me. Freshens breath, kils all odor (gross) and whitens very well

What's going on

Fifty dollar toothpaste really?

Back
to top