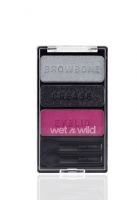 Nice

Nice colors very pretty and easy to apply. Good variety for mix and match wearing

Fabulous.

Especially the new bright colors! One of the few complaints I've had is that Wet n Wild needed to come out with more colors, and now they have. The quality is just great. Most of their colors are shimmery, which is fine by me! They're SUPER affordable (especially given the quality), and gorgeous shades. My only gripe is that the packaging is a bit cheap. But still one of my favorite eyeshadow products!

The Youtube reviews were right!!!!

This lived up to my expectation! I've heard many great things about these eyeshadow trios but have been hesitant to try it since I've tried MANY Wet n Wild products before and they all left me disappointed. I never really can seem to find a great drugstore eyeshadow because in my opinion, they're not pigmented enough to my taste, so I kind of gave up and steered more towards high-end eyeshadows in...read morestead. Thanks to these eyeshadows...I am now a believer! They're highly pigmented and blends so well with little effort on my part. I love it! It's not blotchy like how some drugstore eyeshadows I used to own are. The only reason why I gave this 8 stars is because I wish the trios came with a good matte shade to complete the look since they're all shimmery and they didn't seem to last long. The colors seem to fade after 4 hours of this on so I recommend using a really good primer.

Back
to top