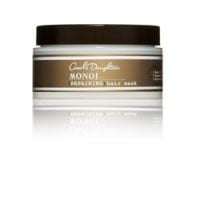 Good hair mask!

UPDATE 12/11/14: I just used this again last night and I really slathered it on! I used about a tablespoon and a half, maybe even two, and my hair was softer than normal. Maybe that is the trick??? .................. I recently came across a You Tube review on this product and really wanted to try it. The two products that I am most picky about are hair masks and mascaras; they have to REALLY perf...read moreorm for me to be impressed. Although, I thought this was a nice hair mask, it wasn't life transforming for me. The jar says it is recommended for fine, fragile and color processed hair; while my hair is color processed, it is thick and long. I use about a heaping tablespoon (or more) about once a week after shampooing and I leave it on for a good half hour. The jar lasts me about 2 months. It leaves my hair soft and more manageable, but not any more so than many other masks I have used. I am actually not partial to the scent; it has a very strong note of Gardenia (or something similar??) and it is too flowery for me. I would have rather had a coconut or "clean" smell. The smell would not deter me from the product, if it left me super impressed. After spending so much on this product (I think $30), I was telling my stylist how discouraged I was (maybe this is the 15th hair mask I have tried??) and she suggested using organic coconut oil instead, so I will try it and see how it works. This may work for you, so I wouldn't discount it. I am just super picky! BTW, I used the entire jar so it can't be that bad, right? :)

Pretty scent

I don't know if this is supposed to be better than the regular Monoi Oil conditioner, but this was thinner and almost felt watery. It has a pretty scent that stays for a long time when used with the Monoi Oil shampoo. I didn't see much difference when I used this mask compared to the Monoi Oil conditioner. It didn't do much except make my hair smell luscious afterwards. I'll stick to my Pantene hair mask instead of spending extra $$$ on this!

Carols Daughter Monoi Oil Repairing Mask

I have read many comments on deep conditioners and this is the first time CD Monoi Oil Mask is making the top 10. I happen to think it is a great product and introduced it to my daughter who loves it as well. My hair is so soft and feels well moisturized. After a few uses you will also notice less sheading. The smell is awesome, my husband always wants to smell my hair after I deep condition.

Back
to top