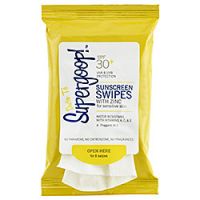 Not enough product

I received a couple of these wipes as samples and was excited to have this purse-friendly option for when I am out and about. I have very fair skin that burns easily. I have also already had skin cancer (I'm not even 30 yet) so I am ultra concerned with protecting myself from the sun. I used these on a day at the beach and was so disappointed to see that the wipes did not have enough sunscreen ...read morein them. The sunscreen only appeared to be in the middle of each wipe. The packaging claims that each wipe is enough for your entire body, but this didn't even come close. I burned so badly from being out on the beach for about an hour. I love Supergoop products and know that their high quality SPFs really do protect, but these wipes just need more product on them if they are going to cover one's entire body. Even using two, I wasn't covered and I am fairly slender. I will stick to lotions and spray SPFs for the time being. The convenience of a sunscreen wipe is just not worth a harmful sunburn.

Great Protection That Stays Put!

I live in Florida, and sunscreen is a must, but sweating is inevitable and then the sunscreen runs into your eyes, and it's just this vicious cycle! My son would suffer sunburns and not wear sunscreen because he hated the sunscreen running into his eyes. We'd fight about it all the time, but he loves this stuff! We don't get burned and the sunscreen stays on and doesn't melt off with the sweat!

super goop 4 sensitive skin

Def. would love to try having sensitive skin seems like a great product..great tip..

Back
to top