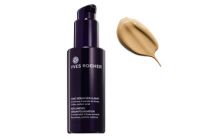 Yves Rocher Replumping Serum Foundation
As low as
Incredible!

This is actually considered "half foundation/half serum." Rose extracts create the heart of this plumping formula. Skin is revived, signs of fatigue and lines disguised, and your complexion is smoothed overall. It never had that "dreaded orange mask" look of coverage; it is very natural. It's your skin, only improved!

The Real Thing

I lost weight, and my face took the blunt end of it. This lovely product does do slight plumping for me, which is better than nothing. Yves Rocher products are very good. Sign up for e-mails so you can be notified of when they have sales. Right now (July 6, 2012), the entire site is 50% off.

Fantastic

This is a fab foundation, its a real shame they have closed their UK outlets so now I have to buy it online. That aside it is one of the few foundations that doesn't contain parabens, PEG's or other nasties PLUS it has superb coverage and does something useful for my skin since its half serum! Love, Love, Love it!