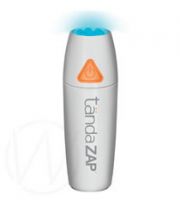 Tanda ZAP
As low as
Not a miracle worker.

I'm calling BS on the other review since this is the ONLY review she's done. Couple things you need to know: The pamphlet in the box says this is for mild acne only, does nothing for cystic acne or nodules, treats white heads only. It keeps track of how many times you've used it so even if it could keep working after 1000 treatments, it's programming prevents it from doing so, forcing you to buy a...read morenother one. You have to use it three times a day on the same spot, so 1000 treatments is going to add up fast. On the plus side, the "warming" part of the treatment doesn't burn at all, it's hardly noticable. The "sonic vibrations" are also hardly noticable. I tried it on a deep cyst i've had on my chin for weeks and increadibly it was way smaller the next day (a week later it was gone), but my gf tried it on a cyst growing on her chin and it did nothing. It does seem to help a bit reducing size and redness after a day or two, not a miracle but great if your skin can't tolerate benzoyl peroxide or other acne meds. I would suggest getting it somewhere you can return it if it doesn't work for you.

Instant!

This tanda ZAP is such an innovative little tool! 1) - the quality is great, durable plastics, vibration, warming and blue light! 2) - the box claims that it will clear or fade acne blemishes within 24 hours. This I thought was probably an exaggeration, but I used it a few times on a pimple that came through on my chin, and the next day within 24 hours, it was not completely gone, but it was no w...read morehere near as noticeable. So far its been working great and making my pimple disappear far faster than they would on their own. 3) - it is a great value. It last for 1000 treatments and is only $49. The only other money you would have to spend is for batteries if your die before the 1000 treatments are over!

Exclusively from the editors at Total Beauty

Get the Buying Guide to see these top-rated products!

Get it now »

Dont believe the hype

I get regular LED treatments at a spa and they are a miracle worker. This thing made my surface acne clear up faster, but it seemed to make my blemishes more cystic after a while and push the bacteria deeper in to my skin. I returned it to Sephora after 2 months and went back to the spa.

Back
to top