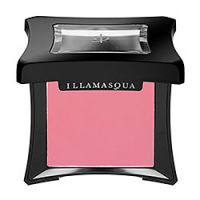 Illamasqua Cream Blusher
As low as
Pigmented and Pretty

I have the Illamasqua Cream Blusher in "Promise" which is a nice, versatile, creamy pink color. This is really easy to apply with a synthetic brush or your fingertips. The consistency is creamy and smooth so it blends into my skin really nicely. This leaves a slightly dewy finish, but is not greasy or shiny at all. It is easy to build up the color of this to reach the amount of pink you want, ...read morefrom just slightly flushed, to babydoll cheeks. Compared to my MAC cream blush, this has a more creamy consistency and is much more pigmented. The MAC cream blush is harder and doesn't glide onto the skin like Illasmasqua's. My blush is going to last me quite a while because the product is so pigmented and a little goes such a long way that I don't have to use much at all. This is one of my favorite cream blushes and I would love to get more colors from the range.

a great cream blush

I purchased this product about one year ago and I still have it, not because you get a ton of product, but because a little goes a long way which is great. You do get 4 grams or .14 oz, which I think is about the same size as a MAC cream blush. This cream is great, it adds just the right amount of dewiness and color, it looks very natural and it is very smooth. There is no sparkle or shimmer in th...read moreis so it looks like your natural cheek color. fades slightly throughout the day, but color is still there at the end of the day- just not as much, although I haven't tried setting this with a powder blush on top- that may make it last longer. Anyhow a really good cream blush, a bit pricey, but the packaging is very unique and elegant and I think is worth it. One draw back there is no mirror.

Back
to top