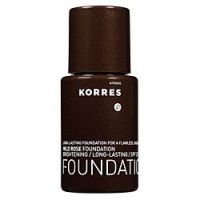 korres

i tried this today and i was scared cause it seemed way to yellow but on and blended in. its beautiful!!! not matte but not dewy. just completely skin. i dont suggest this if you have pink undertones though.

The best foundation

I have very fair skin and this foundation is perfect for my red undertones. Yes, it does have yellow tones to it, and that makes sense considering this is a Greek brand (mediterranean), but for anyone who has facial redness, this foundation can be amazing - neutralizing the underlying warm tones. The application is very smooth, and this foundation blends to the point of being invisible, and jus...read moret covering flaws for me. The foundation itself smells like wild roses but is delicate and not overwhelming. The bottle is not the best for application (hence 9 stars and not 10), but it's not terrible either...Just don't knock it over! But, the big issue is, this foundation is no longer sold in the United States, making it very difficult to find and obtain.

too yellow!

maybe it's beacause of my pale skin,as the girls above suggested,but it's too yellow for my face,silly looking on me. very frustrated.