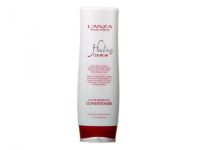 L'anza--A Miracle Conditioner!

I despise coloring my natural hair. It used to be a brilliant shade of auburn which I cannot replicate--neither can any salon. It was strong, resilient, shiny, and fell into its own cascade of curls, making me look like I had a body wave when I didn't have one. As I grew a little older, gray hairs began to appear. At first I tried pulling them out. Then I used henna. Finally, I turned to Cl...read moreairol's "Loving Care" because it has no ammonia or peroxide, but that has unfortunately been removed from the market. So now I color to keep my hair a pretty auburn shade, although I will never have one as multi-tonal as the original. Extending the life of my color is extremely important to me, as it means fewer trips to the salon and/or fewer times doing it myself. When I just inhale hair coloring, I realize how much the harsh ammonia and peroxide must be stripping my hair shaft of nutrients and just damaging it in general. I do use L'anza's superior shampoo to keep the color in longer. After, I turn to L'anza's "Healing Colorcare Color Preserving Conditioner." It has Silicone, Glycerin, Keratin Amino Acids, and flower extracts--Cornflower, Hibiscus, Yellow Rose, and Coneflower. What I love most about Coneflower is that it is present in the potent skin care products available from Diane Young (these products work beautifully to keep your complexion, neck, and décolleté wrinkle-free and firm). There are nutrients in this conditioner which I like--Magnesium, Zinc, and Manganese. L'anza gives a guarantee that its "Flower Shield Complex"® will extend the life of your color by 107 percent. I am completely uncertain of the percent by which my artificial color lasts longer, but it is DEFINITELY noticeable. If I use other shampoos and conditioners, I will find myself seeking the color bottle much more often. I love the feel of this conditioner. It is a rich cream; I leave it on my hair at least three to five minutes to reap the full benefits. My hair is glossy and very soft afterwards. I can go days between washing without hair feeling greasy or heavy at all. Thank you, L'anza, for making a despicable beauty duty much more pleasant!

miracle product

This conditioner, along with the shampoo and leave-in treatment, makes my hair look amazing. It was extremely damaged from cheap DIY color and flat ironing. I've tried many supposed "healing" lines, but this was the one that finally gave me the results I'd been looking for. My hair looks healthy, shiny, with lots of volume,and my color is lasting longer and is more vibrant. I will definitely be sticking with these products.

Review subject

I wish this was a bit more moisturizing and not so expensive, but this does a good job overall of smoothing my hair. And it smells amaaazing!

Back
to top