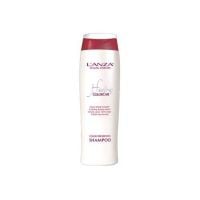 L'anza Healing Colorcare Color-Perserving Shampoo
As low as
A Color-Keeping MIRACLE!

I hate hair coloring for myself, whether it's done in a salon or whether I do it myself. I realize that I am damaging the very core of my hair with ammonia and peroxide, but I do not want the gray around my temples or at my crown to show (yes, I've used temporary colors and hennas and they wash out immediately). If one things makes coloring a little less painful, it's being able to use L'anza's ...read more"Healing Colorcare Color Preserving Shampoo" afterward. This highly efffective shampoo contains Glycerin, Keratin Amino Acids, Calendula Flower Extract, and Gardenia and Yellow Rose Flower Extracts. I was surprised to learn that it contains Coneflower--Coneflower is a key ingredient in the incredible skin care and cosmetic products I purchase by Diane Young. It lathers abundantly and has a sulfate-free formula. The main reason why I turned to this was to extend the life of my color. L'anza claims that this contains a "Flower Shield Complex"® and agents to protect from the sun's powerful, damaging UVA/UVB rays. Color is supposed to last 107 percent longer than shampooing without it. Once again, I have no idea how they determine these numbers, but I do indeed find myself coloring much less often with this. Moreover, my hair's texture is normally akin to a Brillo pad after washing. Not so with this--I can run my fingers through the strands with no problem. That in itself is a miracle!

It works

I love the whole L'anza healing color line, and highly recommend it to anyone who has damaged hair from too much cheap dye and heat styling. I'd give it 20 stars if I could

Color lasted Longer!

I dye my hair a dark red color and this shampoo helped the fading quite a bit, I would say I got at least an extra 2 weeks out of my super vibrant color. I found that this worked best when used with the Color Preserving Trauma Treatment!

Back
to top