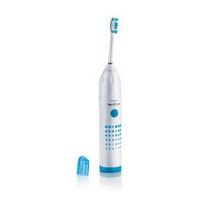 Sonicare Xtreme Battery Sonic Toothbrush
As low as
Heaven for Your Mouth!

Maybe I shouldn't admit this, but few things have changed my life as greatly as my Sonic toothbrush. I apologize if you've read this before, but by mom took an antibiotic with me when she was pregnant. Her physician assured her all would be well--it wasn't. My permanent teeth came in very tiny and soft. They are lacking enamel and have the next layer, dentin, which is yellow by nature. Since ...read moreI first brushed my teeth, I have used baking soda and peroxide to try to whiten my smile and bolster my confidence. A plethora of dentists assured me--and I even hate to say this--that I would not have any teeth by age twenty-five because of the delicacy of my teeth. So I made up my mind to do anything and everything to keep them. I would brush so long that my arm would hurt (I didn't want any unnecessary bacteria to cause additional problems with my gums). I knew that the cleaner I kept them, the better off I would be. Then I bought a water pick. It worked, but I still wasn't satisfied. I wanted my teeth to feel as glass-like as when the hygienist cleaned them! Finally, several years ago, I bought a sonic toothbrush and life changed for the better. Yes, it does turn itself off after two minutes, but I have such a good time not working out my arm muscles and polishing my teeth that I keep turning it back on (I probably brush twelve minutes, at least twice a day). I use Colgate "Optic White" and "Dentisse," a clay-based toothpaste and have never felt this clean before. Cleaning with a sonic toothbrush becomes addictive, and a regular toothbrush becomes very inadequate once you've been spoiled. This should be mandated by law for every household! I can't tell you how healthy my teeth and gums are, how much confidence I have gained, and how good it feels!

So Effective!

I got the Sonicare battery operated toothbrush for my birthday and while this isn't the most glamorous gift, it has probably been one of the most effective. I was wary of using an electric toothbrush because I thought it would be awkward and might even hurt my gums. Wrong! While making the switch from a manual to an electric toothbrush does take some getting used to, this is extremely easy to u...read morese and leaves your teeth feeling so much cleaner it is astounding. My teeth, especially on the bottom are very close together so I tend to get plaque on the backside of a few of them. I would always spend extra time brushing the backside of those teeth with my manual toothbrush, but some would remain. After just one use with the Sonicare, that plaque had broken up quite a bit. After about 4 brushes, it was nearly gone. This is amazing! Overall, my teeth feel so smooth and so, so clean. I have always had fairly white teeth, but I feel like now that I use the Sonicare every day, I am ensuring that my teeth stay just as white, despite frequent coffee drinking. The brush turns off automatically after two minutes and the batteries last quite a while. I doubt I was brushing my teeth for two minutes straight with my old toothbrush, so if nothing else that is a major improvement. I haven't had to change my brush head yet, but a two pack is about $25. We;; worth it! These toothbrushes have really come down in price, making the switch a really affordable one. Considering that you will probably pay much less in dental work if you use your Sonicare consistently, it is such a smart investment. I cannot recommend a Sonicare toothbrush (either battery operated or rechargeable) enough!

Back
to top