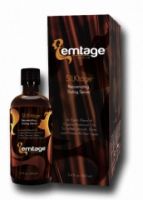 SILKtage Natural Hair Serum

SILKtage is by far the best hair serum I have used, natural or otherwise. It doesn't contain any harsh or drying ingredients and instead it improves hair health through the use of natural oils. With continued use over the last month and a half, my hair has stopped breaking and I no longer get split ends after my monthly hair trimming. Plus, I only have to use 3-4 drops when styling, which is a mir...read moreacle for my thick hair. It makes my hair shine and it smells amazing! I will never stop using this product, it has saved my hair!

SILKtage is the best natural hair oil!

I bought Silktage online after a friend told me about it. We are both into chemical free, silicone free beauty products so I went for it. The minute I open the bottle I was hooked. Silktage has the most beautiful, pure scent of any hair product I have. After I shampoo my hair, I put a few drops on my wet hair and then blow dry. I could not believe how easy it was to get really smooth shiny hair wi...read moreth just a couple of drops. I did put a few extra drops on the ends because my ends are usually rough and very hard to get smooth. Silktage instantly smooth the rough ends and my hair was silky, bouncy and looked healthy. I use a couple of drops every day on the ends and every time I use a blow dryer and flat iron I make sure I use on SIlktage. I use SIlktage every day on my hair in between shampoo. I find that I can go longer without shampooing because it rejuvenates my hair so I don't need to shampoo everyday. My ends now always look healthy which is such a great relief. I love the fact that SIlktage is so natural. Made with only pure botanical oils. I have been using it on my face, nails and feet as well. Silktage is a magnificent hair oil!

Silktage is a true Camellia Oil hair serum!

When I heard that my local Whole Foods Market in Venice CA had a natural hair serum with Camellia oil at the top of the list of ingredients called Silktage, I had to have it. Silktage did not disappoint. Not only did I see results the very first time I used it, I was mesmerized by the beautiful aroma. Finding a natural serum was exactly what I was looking for. Silktage works wonders on my curly, ...read morefrizzy hair with out the chemicals. I have told everyone I know about Silktage, it is not available at every Whole Foods as yet, but I see it's available on some online sites and the company's website. Silktage has been a God send to my wild and crazy hair.

Back
to top