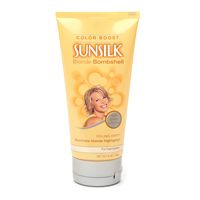 It really does work...

I bought this because it was on sale so I thought I'd give it a try....come to find out it really does work...I am actually a brunette but have blonde highlights which have faded over time....well this product has actually brought color to my old highlights and gives me a bit of shine to that as well. The bonus is that this stuff really smells good. I just ran out and I am planning on going to buy another soon!!

Review subject

okay so i havent tried this yet but i recently found it at a dollar store i had to review the product before i used it and i saw a post that they dont sell it anymore ... well i found it and i though i should let you know

amazing!

I had been lightening my naturally medium brown hair to a warm light blond, and this product used once or twice a week helped lessen my (really) obvious roots! It also kept my color from oxidizing too bad with my hard water! Must buy for bottle blondes!

Back
to top