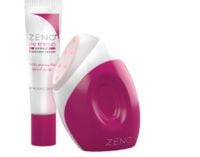 Zeno Line Rewind
As low as
My Zeno Line Rewind

My Zeno Line Rewind is a great tool used to help with wrinkle reduction. This little device heats up, vibrates, and uses red light technology to help smooth out fine lines, similar to what you would find in your Dermatologist's office. It comes with a serum enriched in antioxidant Resveratrol and Peptide Complex to help the device smooth away fine lines. You put about a quarter size amount of se...read morerum on your face and then use the device to massage the serum into your skin by gently rubbing in small circles. This process is done after washing your face and only take about 4-5 minutes. I am very excited about this technology and couldn't wait to try it. I found it easy to use although it doesn't always move as smoothly on your face, I felt like I had to keep applying the serum. I did like how it felt, it was quite soothing and the heat was not uncomfortable at all. I do wish the on/off button was not so sensitive and right in the center of the device. I keep accidentally turning it on in my cabinet when I'm moving things around to look for something. I noticed after using it that my face was a little bit red but this only lasted a few minutes. I love how well the product seeped into my skin. It helped my dry skin feel super soft and supple, and very moisturized. I have a few small lines and haven't noticed much of a difference yet, but I have only had this neat little gadget for about a month, so I plan on continuing to use it. The only downfall with this product is that it comes with a small tube of serum so it may add up when you have to keep replacing the serum. I couldn't find on their website how much replacement tubes are. The My Zeno Line Rewind costs $39.00. If you are really into beauty tech gadgets like I am, then I'm sure you'll love this. If anything, it gives that little extra boost of relaxation, which I always love.

Not a magic bullet but a cosmetic genius!

The fluency (or strength) of the 6 LED's in Zeno line rewind may not stimulate collagen in any substantial way but don't let that stop you from buying this awesome machine/serum combo! The formulation of the serum is perfect for fine lines around the eye orbit. It's opalescent light refractors are top drawer and the appliance's heat, texture and shape of the applicator combine with the gelee to ...read moreNOTICEABLY drain puffiness and smooth fine lines around the eyes. Repeating the treatment daily won't harm your eyes and may in fact reduce puffiness because of the sonic vibration. This little pal is worth the small investment. I am buying one for everyone in my good books.

Back
to top