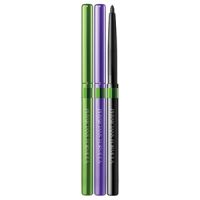 Works in a pinch!

I am so glad that everyone else had better luck than I did. :) I love the PF bronzers and I bought a bronzing kit over the summer which came with two free Shimmer Strip eyeliners; one in black and one in brown. I just thought they were ok. I found them to be difficult to smudge and blend, and found myself tugging at my lids during application. It was a fun product to get for free and try but I wo...read moreuld not purchase. I threw them in spare makeup bags and grab them in a pinch but would not wear as my main eyeliner.

EXCELLENT!

Amazing staying power, great color,and for the price you can not beat it!

Super Smooth & Smudge-proof!

Lately I've been loving the Physicians Formula Shimmer Strips Custom Eye Enhancing Eyeliner Trio so today I wanted to share with you swatches and my quick review. This set retails for $11.99 and it comes with 3 full sized eyeliners, the set I have is in "Nude Eyes" which has 3 neutral liners: Natural (Champagne), Playful (Pewter) and Dramatic (Black). Physicians Formula claims that this is the p...read moreerfect set of three eyeliners to create a Nude look for any eye color and I agree 100%! Physicians Formula also has a "Smokey Eyes" set and a "Bright Eyes" set as well. I purchased my set from Ulta when they had a major discount so I paid almost half that price, regardless 3 full sized liners for $12 is a major steal! The liners apply smoothly and without any effort at all, whether you apply it on the lids or waterline, they are amazing and don't tug or hurt at all unlike many other liners out there. They do claim to have a 24 hour wear, I personally have not tested out that theory because that is way too long to wear makeup, but these did last for an average work day of about 9-10 hours...which is pretty amazing! They do take about a minute to set, but soon after they are smudge proof, don't smear, don't cause raccoon eyes, and they appear to be waterproof because they do don't wash off with just water. Also, don't let the name fool you ("Shimmer") these are not matte, but rather frost, and they don't have any glitter or major shimmer which is a bonus because personally for an everyday look I do not want sparkles on my liner! Overall the Physicians Formula Shimmer Strips Custom Eye Enhancing Eyeliner Trio in Nude Eyes is amazing and I love all three liners that come in the set! I would highly recommend this set to anyone out there who is looking for affordable eyeliners that are long lasting, that apply easily and that are smudge proof!

Back
to top