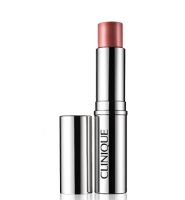 Clinique Blushwear Cream Stick
As low as
made me a blush believer

Cream Blush is hit or miss with me. Some brands seem to sink into my skin in a weird pore emphasizing way and some of them look very clown like because of my fair skin. Clinique Blushwear Cream Stick however goes on soft and creamy, blendable and subtle. I can make it as light or intense as I want, and it's easy to adjust since the cream doesn't 'set' immediately. Because it's Clinique, it doesn't...read more clog my pores the way some cream cosmetics can. I've always really loved Clinique blushes. I never really thought I had much of an opinion on blush one or the other (it's always been the redheaded stepchild of my makeup routine- something I used but didn't put much thought into) but I'm starting to realize that of all the brands out there, Clinique seems to be getting my highest levels of blush respect. Perhaps I'm becoming a believer!

Review subject

I have this in Rosy Blush and it's great! The texture is creamy and smooth, it blends well, looks natural, and doesn't have that too-shimmery-look like some powder blushes. The only bad thing I can say about it is that it gets kind of oily and sticky during the day under my powder foundation.

Love this

blends well, looks sheer and natural, and even great in the hot summers. Looks good over foundation and moisurized skin.

Back
to top