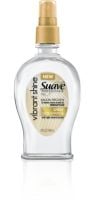 Great bargain shine spray!

I am also surprised with the low reviews! I bought this on a whim a few months back. At first, it really wasn't what I expected. When I bought it, I was looking for more of an oil based product, and when I saw that it had alcohol in it and "mineral bursts" (that looked like flecs of gold glitter!), I was really hesitant to try it. I thought my hair would have glitter all over it and be sticky from...read more all of the alcohol. I couldn't be more wrong! I couldn't believe how much shine it gave me. When I spray it on, I can literally see it "become" shiny. I also now LIKE the fact that it isn't oil based because my hair has never been greasy with this product. I did read some of the low reviews, and to be honest, I think it is due to "user error." It is a shine spray and not much is needed! My hair is long and thick, and I usually apply 3-4 spritzes; one on each side and the back. Definitely a good product that surprisingly does what it says! I will be repurchasing.

Very good

I certainly am not a big fan of Suave products but I must admit I like this one. I can t believe it is getting such bad reviews. It is one of those products that people probably use too much of and you only need a few spritzed. I found it to be a great product and you just use a small amount for lots of shine. I recommend for use but you may want to stay away from hair spray. Comb it through when dry. Inexpensive.

Good shine, but don't use too much!

I bought this on a whim because the price was so good and gave it a try. My first mistake: I sprayed it more than 2 pumps and I ended up looking greasy. It works good initially, but I didn't really notice the effects later on during the day. I did feel that my hair was smoother and softer where I sprayed it, and it has a bit of a vanilla scent that I could still smell hours later. It's a good product, but I wasn't blown away by it.

Back
to top