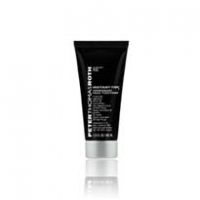 Peter Thomas Roth Instant FirmX Temporary Face Tightener
As low as
Don't waste your money

When you apply it, all wrinkles disappear. You wait, then wash it off. Wrinkles are back! I tried not washing it off, but it turned into a whte powder under my makey. Please don't waste your money.

Follow the instructions carefully

I often meet women who are interested in this product after seeing it on Dr. Oz. Since that episode, demand for this product has sky-rocketed. I sell lots of skin care products so I often demonstrate this product on many people with mature skin. I follow my own skin care regimen and I am still young so I do not have problems with wrinkles. I am simply speaking on my observations of demonstrating t...read morehis product on OTHER people who do have problems with wrinkles and want a quick fix. First off, you must cleanse your face. The product works better that way because it doesn't have layers of residue or makeup to fight through. Don't get me wrong, you can still put this over makeup, but your results may be slightly better if you used this first. You take a little bit (a little bigger than the size of a pea) and gently dab it on areas where you want to see tightening. Then you let this dry for 3-7 minutes and your facial expression must remain emotionless during this time for best results. During this time, you may feel a tingling in your face where you applied the product. If your skin is sensitive to products that tingle, this may not be for you. Now here comes the tricky part. Many people may have a white residue left on their face after the product dries. You do NOT wash it off because that will wash out the product and you will lose your results. You MUST either take a damp (not dripping wet) tissue or q-tip and GENTLY wipe off the residue. Obviously people with darker skin may have more worries of the white residue than people with lighter skin. Your results DO stay and last throughout the entire day if you follow the instructions correctly. It does take a little practice to get it right, so I suggest getting a sample of it first to practice with before making the investment. When I do see results on people after using this product. They do have a significant reduction in wrinkles and their skin looks smoother. So the product DOES work, but use with caution. You can use this under the eye area, but I would suggest using the FirmX made for the eye only because it's made to better deal with the delicate skin around the eye. Do NOT use this product or the Eye FirmX on your eyelids. Note that you must wash your face at the end of the day. Also, keep in mind that this is only a temporary tightener. It will not last for more than a day and it does not permanently treat wrinkles. I highly suggest using this during the day and after you wash it off at night, use the PTR UnWrinkle regimen or any other products/treatments you may use to treat wrinkles.

Back
to top