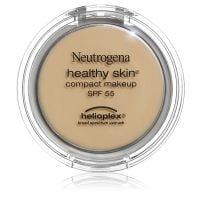 SPF is nice

This certainly wasn't the best foundation, but it wasn't the worst. The spf was great! I used this while in Italy, and I never once got sunburned! It is not a foundation that I would use on a daily basis, but it was useful for what I needed.

Not the best drugstore option

While a cream compact foundation is convenient and nifty, this one is a tad greasy and unwieldy to apply. I think Neutrogena and the drugstore in general have better options.

Neutrogena healthy skin compact

I live in the Caribbean and have an 'olive skin' complexion. I use sunscreen everyday and apply every 2 hours. All the products I have used leave my skin greasy with a white film. This compact protects my skin and gives me colour. Personally I wouldn't use it instead of a regular foundation but rather, first and foremost as a sunscreen. It does sting very slightly but I have this reaction with all sunscreen products, however it doesn't sting nearly as much as sunburn.