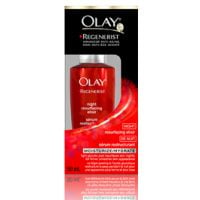 Keeps skin youthful

I apply this on my face every night and wake up the next morning with my skin glowing and very smooth like a baby's butt. It's a sticky watery texture, but when applied to the face, it absorbs quickly into the skin so it doesn't feel sticky or greasy at all. You only need to use a pea size. Less is more. It's pretty moisturizing for the winter time. But it is pricey to purchase every time I run out.

Won't buy it again

I had high expectations for this product, and after a month of use I was pretty dissapointed. I saw a little improvement in texture and tone but not as much as i'd hoped for. Maybe my expectations were too high, but for the price I didn't think they were. I'll finish the bottle, but I won't be buying it again. OH, and it smells HORRIBLE!

Good Stuff

Feels good going on. Not drying at all. Seems to lighten brown spots and even out skin tone. I will buy it again. I think it is good stuff.

Back
to top