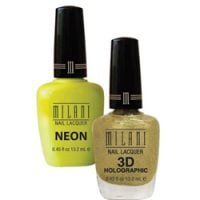 Wow!

I picked up two of the 3D holo polishes and both were fantastic. They dried quickly and two thin coats led to a perfect result. You can't beat the price point and the scattered holo effect is lovely.

Great 3D effect

I love all of Milani's Nail products. They provide great wearability and are of really good quality for the price. This polish does look 3D when used with a topcoat.

Milani 3D Holographic Nail Polish

Woww!. I really really really love the glitter gold one because my mom bought this type of nail polish..I don't know if she ever ever used it. But, I used it one time and I kind of liked it becuase of the sparkles. The only thing that I forgot about was to put the Milani Clear Top Coat on top of the Glitter Gold nail Polish after it dried, so that it can look 3D like. I would surely recommend for people to try this product because some people might like polish that have 3D sparkle to it.

Back
to top