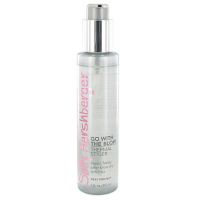 Sally Hershberger Go With the Blow
As low as
straw-like hair!

unfortunately this did not work for me! i used it on my damp hair and then blow dried my hair with a round brush. i got an alright result, my hair wasn't too frizzy and it looked good and shiny. i even didn't notice my split ends too much. the major downside was that my hair felt dry, like straw. i felt like i stretched it out way too much or something. it had a somewhat hard, squeaky, crunchy tex...read moreture and i was afraid to put it up in a ponytail. i knew a girl with straight hair who loved this and it worked great for her. i have naturally curly hair and usually blow dry creams work best for me. this was more like a serum. maybe this product just isn't meant for curly haired people.

SALLY HENSEN HAIRDRYER

LOVE THIS DRYER. AFFORDABLE AND WORK'S GREAT.

Hair lotion that delivers!

I rotate this hairdrying lotion with others so that my hair doesn't get bored, but I always love the times that I get to use this product. It doesn't take much to work properly, so the bottle size is a huge perk. A dime-sized portion works noticeably well in my long hair and really does keep the frizz out when I have to dry my hair. It really does help to nourish your hair and make it healthy and ready for the day and styling to come!

Back
to top