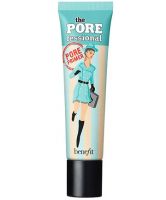 Pores--WHAT Pores?

Few makeup primers make a great impression on me. I actually bought Benefit's "The Porefessional" for my husband--he is troubled with some large pores and wanted to cover them. This nude cream works to hide his pores without being noticeable at all. So I decided to use it under makeup. I love it! It doesn't have the heavy feeling Smashbox's primer and so many others gave me--I don't even real...read moreize it's there, except that my skin looks flawless. Benefit suggests patting a little additional product over makeup if pores are visible, being sure to blend well. For great photos, begin with this item, complete your makeup, and reapply it again so that the camera lens loves you.

No More Pores!

This is an incredible primer. It has a slight nude color, glides on smoothly, and really does hide pores and other imperfections as well as even out skin tone. I could not believe how beautiful my Too Faced liquid makeup looks.

Better than I expected

I love a good primer and DO NOT love the way my pores look most of the time. When this first came out I wanted to try it but I talked myself out of buying it after reading some of the reviews on Sephora. However. I recently picked up a sample that I've been using and I'm actually impressed with it. It comes out of the tube looking like it's tinted which made me nervous. I'm so fair skinned tinted ...read moreproducts often don't work well on me. But this goes on translucent and very, very smooth. I only use it on the trouble spots--forehead, nose, chin--and put it on after a moisturizer with SPF. This makes my skin look smooth and amazing. The only thing I don't love is that it doesn't control oil at all. I've used some other primers that prevented my mid-afternoon shiny forehead situation, but this one does not. I'm still undecided about whether I'll purchase this after my sample runs out...

Back
to top