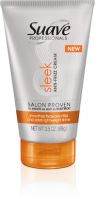 Great bargain

This was my first Suave product from their professionals line. I was not expecting too much, but this stuff does what it says it does. The cream is not heavy, so no weighing hair down, and the scent is pleasant enough. I like to apply this to damp hair and then blow dry. A small amount of this cream helps to tame my hair and smoothen it. It would be perfect if it could add a little more shine to m...read morey hair, well, still great since this is not a serum. It is a bargain compared to similar anti-frizz creams.

okay

this product will work for really thick hair. it manages to smooth my frizzies. just dont add too much or else you'll end up with pancake hair and have to start all over again. this is not like the fekkai glossing cream where you can add throughout the day. this one has limits....

Meh

This does a good job a touch up on frizz. The few times I used when blow drying, I was less than impressed. The formula has a nice consistency for getting it just where you want it when touching up a frizzy spot. However the thickness of the formula is somewhat problematic when trying to spread it throughout your hair. I usually just ended up with a greasy spot and frizzy hair everywhere else....read more I found the smell nice, but nothing all that impressive, certainly a clean, non-offensive scent. The packaging also left something to be desired for me. Normally I like a tube, but something about the thickness of this product causes me to either get nothing or half the bottle out when I squeeze it. Given the bargain price I certainly think it is worth a try if you are looking for something like this, I however doubt I will purchase again.

Back
to top