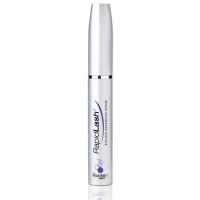 OK

The RapidLash Eyelash Renewal Serum did make my lashes grow some and made them thicker. I prefer Tarte's Lash Enhancing Serum better and it is all natural.

I like it!

I've been trying this for about a couple of months. My lashes are definitely thicker, though not longer, but that's not really a problem because I can wear mascara. I really like this product.

Works but very slowly

I definitely takes more than 4-6 weeks to see any difference in the density and length of the lashes, but it does work. It is not going to make as much difference as Latisse, but then you also don't get a ton of long-term changes to your eyes and side effects the active ingredient bimatoprost can cause. I got Rapidlash as part of total beauty collection, so it was a good deal, but if you are buyi...read moreng it separately, it is a tad overpriced. I'm not quite sure I'll repurchase, as I have decent lashes to begin with, but at the same time it is nice to have them longer and thicker. The tube lasts for several months for sure. It is super easy to apply it with that little brush. Overall, a pretty good product.

Back
to top