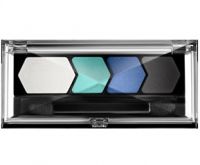 Give These a Try!

"Copper Chic" and "Legendary Lilac" are the two palettes I own. They are indeed silky but a primer is necessary to keep color from budging. I love the way Maybelline coordinates color; the colors complement each other nicely. The "Lilac" does a lot for my hazel/green eyes. I just enjoy "Copper" as an edgy, becoming quad, great for summer. These apply fairly easily and blend pretty well. Some colors are more pigmented than others, but it's a great palette for about $8.00.

Eye Studio Color Plush Silk Eyeshadow

The colors are really great, and they work better when you use a primer. They really last with a primer.

What was I thinking?

Aside from having a coupon that heavily discounted this item, I think I was drawn in by the advertising and the rich colors. Immense disappointment. These colors don't wear well (I am never without eye primer), flake, can start to cake really easily, and all in all look gunky. I didn't walk out the door like that, but when I came home and looked in the mirror, I was APALLED and have vowed to never buy another Maybelline product no matter how well hyped it is.

Back
to top