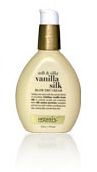 Organix

Leaves my hair soft & silky. The scent is amazing. Great price also!

i really want to get this

i always here that this is really good for your hair and it makes your hair really soft and silky but i cant find it anywhere where can i purchase it???? HELP

Sad this is discontinued =(

I love the smell of the Vanilla line and after reading reviews I really wanted to try this product. After looking everywhere for it I finally decided to email Organix and they told me that it was discontinued =( But the good news is that they said they made a new blow dry cream in the morrocan (sp?) line. I really wanted this for the vanilla smell but after reading the reviews about how great it was I think I will give it a try in it's new line.

Back
to top