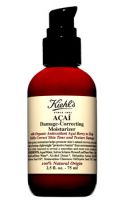 I have finally found a skin care line that is a miracle.

I cannot believe there exist a miracle skin care line that is reasonably priced and works! I received a card in the mail to try one of their products. I went to the department store, and found a very knowledgeable Kiehl's rep, who recommended this moisturizer. From my research I have leanred Acai is the greatest boost to skin care recently. Well, it's true. My skin is smooth and radiant after...read more just one application in the store. I bought several products including this moisturizer, Keihl's Acai Damage Protecting Toning Mist (which you can spray anytime on your face for a refresshing surge (even after makeup application, Kiehl's High Potency Skin Firming cincentrste, and the miracle of all, Double Strength Deep Wrinkle Filler. All of these make for a great arsenal of skin care. I'm happy!!!

Nice Moisturizer

Makes my skin look healthy, it is light and perfect for daytime, absorbs quickly. Has a light scent but my sometimes sensitive nose and skin are not bothered by it.

Not so moisturizing

I've been using this for the past 3 months. This moisturizer does not hydrate or moisturize at all! I honestly found it drying and dehydrating :( I really wanted to benefit from it so badly because I bought it! But no I didn't. It's a cream that dries up on application/ skin contact. It could be more suitable for oily acne prone and oily combination skin types, but not dry or normal. I had to add some olive oil to it in order to continue using it! I use it as a night cream now!

Back
to top