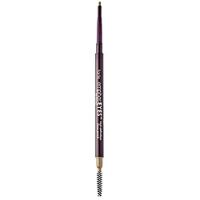 Tarte EmphasEYES™ For Brows High Definition Eyebrow Pencil
Just wonderful....

This is so easy to use. I've tried many skinny brow pencils like this (although I have yet to try the Anastasia Brow Wiz that everyone raves about). I love how this makes my brows look super natural and the formula is really smooth, creamy, and pigmented that it actually shows up where I marked it. Sometimes brow pencils are a harder formula where it takes a while for the color to show up. Not wit...read moreh this one. One go and I'm good. This also lasted me the whole day without fading. The only thing I wish I can change about this brow pencil is that Tarte needs to offer more colors. There's only three colors of these brow pencils and although I got it in the color Medium Brown, I wish it was a tad lighter since it's the same color as my hair color. The next shade down was either too light or the next shade up was too dark. Tarte needs to come up with a better array of colors especially in their brow department.

Review subject

My favorite part of this product is the spoolie end. It tames brow hairs into place. The actual brow pencil is okay. I've seen better and I've seen worse. I like that it's semi-matte and not too attention grabbing like some shiny products can be. However, the color didn't match quite right and I had to use it all over my brows in order to make them look right. I guess I'm not into making over my w...read morehole brows and instead like to concentrate on the tails where things get a little sparse. Good product, just not for me.

terrific brow pencil

I was very pleased with this product. I have sparce brows and always keep them filled in. This product is great for the gals that just need to groom and shape, and great for those of us who need to "manufacture" brows each morning. The fine tip is great for detail. I also love that the formula is semi-matte and not shinny. It wears all day.