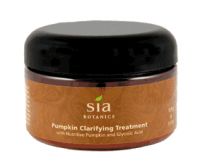 makes skin feel great!

I love the way this treatment makes my skin feel, and it definitely looks brighter. I never like to use this kind of treatment but I use this all the time now!

Fabulous!

I totally love the pumpkin clarifying treatment...my skin feels so good after using it. But I made the mistake of sharing it with my daughter and now when I go to find it, half the time it's in her bathroom! Time for her to get her own!

Smells Good and works well!

I got a sample size of this just to try it out and I love it. I really felt like it was working because you can feel your face tingling. After I wash it off my face feels smooth and looks brighter. After a few times you start to lose the tingling senses but that's just because your skin gets used to it I guess. It smells delicious too!!

Back
to top