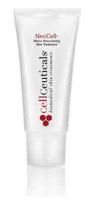 CellCeuticals NeoCellä Micro-Resurfacing Skin Treatment
As low as
This exfoliator is not for me

CellCeuticals claims "Neo-Cell Micro-Resurfacing Skin Treatment uses natural enzymes and volcanic micro-minerals to gently resurface skin without irritation, revealing smoother, more radiant, and healthier-looking skin. Natural enzymes and volcanic-minerals work together to exfoliate surface skin cells without irritation." Basically what that means is that it is a mechanical exfoliator that...read more have a little bit of a chemical exfoliator. This cream is thick with sharp little grits. It has no real smell. The grit in it was a little too sharp for me. I didn't notice it doing any better of a job than my Derma e Microdermabrasion Scrub that costs $15.00 less and while it is also a mechanical exfoliator, it doesn't hurt and feel like it is damaging my skin. This one hurts. I am giving it a few stars though because my skin does feel cleaner. I'm not going to be finishing this. I wouldn't be adverse to trying a different product from this company but I am going to stop using this particular product.

Super Scrubby!

I love exfoliation, but I'm def. aware that too much of a good thing can become a bad thing. Although I'd love to exfoliate every day, I keep it to 1-2x/weekly. I have fairly sensitive skin and also have an autoimmune condition so I'm careful about the types of products I use. I normally use gentle products on my face (Cetaphil for washing, SteamCream as a lotion), but I won a CellCeuticals Kit an...read mored decided to try it. I'll leave a review for the entire kit at some point, but I wanted to also review this separately since it's prob. my favorite of the 5 items that I tried. So this came in a tiny little tube which had me worried at first. I like to use a big handful of the St. Ives scrub!! It turns out that you seriously don't need (or want!) to use very much of this since it's so effective. It's a smooth, white creamy base with no detectable odor. The part that made the previous reviewer hate it was the part that made me fall in love! It has some *serious* grit to it!! The particles are micro-fine and you can't even see them in the cream. You'll def. feel them on your face though. You don't have to use much pressure at all when exfoliating with this, in fact you'll prob. want to be gentle. I felt like it really got the blood moving in my face and make my skin feel more....alive. It didn't damage my skin at all and I was left with a clean and smooth face. It also didn't dry out my skin in the slightest--- all the CellCeutical products that I've tried have been very moisturizing. Something to note: I'm afraid of all those spinning brush things bc I fear they'll damage my skin but I love using this. *Also, I did receive this product as a prize from a contest, but the opinion is totally my own. I would def. repurchase the MicroResurfacing Skin Treatment and recommend giving it a try if you're looking for something with a more intense scrubbing experience!

Back
to top