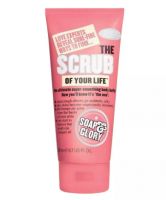 Soap & Glory The Scrub of Your Life
Good scrub, but pricey...

I agree with some of the other reviewers - it IS a good scrub, but it costs $15 a bottle, which makes me not use it as much as I probably should. I don't have dry skin, but I do use this once a week because I self-tan. I like the fact that it is not oil based like a lot of other scrubs are - the oily ones can leave residue in the shower and are just messier. This scrub is more like a soap with granules and it rinses really clean and leaves my skin soft and touchable.

Good enough Scrub

This Soap & Glory Scrub does make my skin soft and sweet smelling, but it is overpriced, and as a result I don't use it as much, only for problem dry areas. It is not "the scrub of my life", but I do like that it doesn't rinse off as easily so I feel like I get some bang for my buck.

Great

This is a great body scrub. Not too much money and my skin is really soft after!

Back
to top