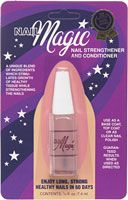 Fantastic stuff!!

I've used nail magic in the past (found it at a local drugstore) & my nails grew like never before. For the first time ever I had long, strong, healthy nails that were break resistant. As long as I used this stuff as a base under my polish (or can be used alone),I had beautifully long nails. Nail Magic prevents nails from chipping, splitting, bending & breaking. Trouble was it was discontinued in...read more stores, therefore I could no longer find it available, but now that I know it is obtainable again (online), "nail magic, here I come" :) Also,I want to add that several of my friends used this product as well with the same results I experienced...Beautiful nails that are break resistant. As for burning cuticles, I can't say that was part of my experience at all. Neither did any of my friends report as such. If u have trouble growing ur nails or keeping them, I would strongly suggest the used of this wonderful product, u won't be disappointed!! I can't wait to buy a bottle now that I know this stuff is back bcuz the present condition of my nails is "sport-length" :(

I HAVE SEARCHED LONG AND DELIGENT!!!!

THIS PRODUCT IS A PROVEN ABSOLUTE. I DO NOT SWEAR, BUT FOR THIS PRODUCT, THE EXCEPTION I MAKE. THANK YOU FOR POSTING THE LOCATION WHERE I CAN PURCHASE IT AGAIN...AND PLEASE CONTINUE TO MAKE IT. P.S.: IT WILL SLIGHTLY BURN THE NAIL CUTICLE IF THE SKIN IS BROKEN.

reformed nail chewer

After biting my nails for the first 20 years of my life my hands were left looking like those of a little boy. I was ashamed all the time, itching to put polish on my oh so short nails yet not wanting to bring attention to them. I tried a million and one products to help strengthen them so that they would stop peeling and tearing at the edges all the time. I started using this product and I saw a ...read moredifference within the first week of use. Its hands down the best product Ive used when it comes to rebuilding the character of your nail. Give it a chance and I think you will be very pleased!

Back
to top