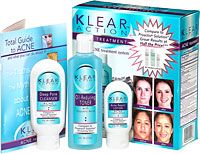 Very Nice :)

This stuff really works...I've used Proactiv a few times before, and this stuff feels and even smells just like it. The box even has a list of ingredients that Proactiv has that this also has. It's pretty much the exact same system, but for $20 at your drugstore. My skin was a little dry and sensitive for the first few days, but after it adjusted I didn't have ANY acne the whole time I was using this. Awesome stuff :)

Great

i still have a few zits, but when i use this stuff my face is so much clearer. Without this stuff, i would have hated my middle school years, (which are almost over) but i loved

Exclusively from the editors at Total Beauty

Get the Buying Guide to see these top-rated products!

Get it now »

perfect for teens,i love it

im 15 and i use a lot acne treatments, but this one works, im being using it a couple of days and is taking my acne away and doesnt dry my skin like other products.

Back
to top