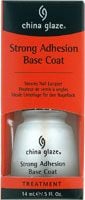 A Decent Basecoat

I like this basecoat for its ease of application, ability to prevent stains, and its prevention of chipping, but it leaves a lot to be desired. The smell is really strong, and it leaves rather prominent ridges (read: buff your nails before using this, and technically any other polishes). Also, I like that this dries super fast, which is really convenient.

Not My Favorite

It worked pretty well keeping the polish on but my nails were stained terribly underneath when I used Essie's 'Go Overboard,' a darker blue.

My Perfect Base Coat

Strong Adhesion Base Coat is my go to. After it dries it feels a little tacky, which to me holds the color polish better. Before using this after a couple days my mani would peel and chip. As a former nail biter this was bad. Since using this I don't peel or chip for a week. It might last longer than that, but I change colors weekly. I highly recommend this.

Back
to top