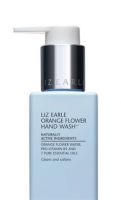 Liz Earle Orange Flower Hand Wash
As low as
A Real Treat

I used to wash my hands with dishsoap, no more. It really makes a difference on how old your hands look by what you put on them. The scent of this hand soap is wonderful and my hands always feel soft for hours. My hands look better too, I think.

Super clean hands with this gentle cleanser!

Rough hands from winter? Cracking from early spring gardening? Just want a super luxurious hand wash by the kitchen sink? Liz Earle's new offerings "Hand Repair" cream lotion and "Orange Flower Hand Wash" to the rescue! I've had both planted next to my sink for over a month now and they are just plain lovely. Even the Bionic Hubby commented on how much he liked the Hand Wash. ...read moreWe were both bummed when our bottles ran out last week. Granted they are a little pricey, but quite often we spend eleventy thousand (thanks to the Cheap Chick for that phrase!) on our face skin care but neglect how our hands. Your hands can age quickly - and get abused daily. So a little extra pampering here and there is a good thing. The Orange Flower Hand Wash is light, produces quick suds and deep cleans grime without stripping moisture from your hands, cuticles and nails. The scent lingers with a nice herbal and floral after note. I followed up each wash with a dose of Hand Repair to help resolve my rough winter skin and my gardening cracks... yes, I forget to wear gloves most of the time. It's a great cream lotion - soaks in quick. The best part? It's packed with natural antioxidants and anti-aging herbals.

Back
to top