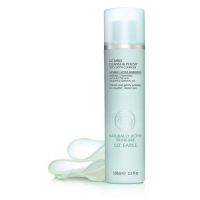 Love Liz's Deep Cleanser

I have a very beauty-savvy friend who often surprises me with beauty "gifts" for no particular reason other than that they work effectively. She never disappoints; I never know if I'll receive a cosmetic, a cleansing product, or an item to enhance my hair, but they are always extraordinary. One of her best choices ever arrived last year--Liz Earle's "Clean and Polish™" Hot Cloth Cleanser. It ...read morewas unlike anything I had ever used before, but I credit it for keeping my skin ultra-clean and baby soft. I have repurchased this many times. This plant-based cleanser works in two phases. Phase I: This thick, rich, and creamy product removes all traces of makeup, even stubborn waterproof eye makeup (all without mineral oil as an ingredient). The second phase is "polishing." You use the pure muslin cloth which comes with the set to remove the cream. The muslin, by its very texture, performs as an exfoliator, sloughing off dead skin cells and leaving you with an immediately more radiant, clear, smooth complexion. The ingredients? Liz Earle incorporates beeswax, eucalyptus essential oil, glycerin, hops extract, D-panthenol (also known as pro-Vitamin B5), cocoa seed butter, citric acid, and rosemary and chamomile essential oil extracts. I was thrilled by this but uneasy at first as to just what to do with it. I generally gravitate toward cleansers which lather. I learned how to use it: You massage one to two pumps of this lush cream onto a dry face and neck twice daily. Rinse the muslin cloth in hand-hot water and squeeze out. Gently but thoroughly wipe off the cream (for obvious reasons, I like to use upward, circular motions, being sure to remove all of it but never tugging on skin). Keep the cloth hot until all of the cleanser has dissolved. Then splash face with cool water to seal pores. This is not just for those with dry skin; it is for any woman (or man) who wants to cleanse deeply and well and reap the benefits of a beautiful complexion. I liked the muslin cloth so much that I ordered several more from Liz Earle's site and keep them handy and clean in my linen closet. It is an experience to savor!

Multitasking cleanser

I have been using this cleanser for quite some time now. It is great for when you want a quick cleanse/exfoliation. Working wonderfully as a makeup remover, you apply this cream to your dry face. You can even use this to remove eye makeup. Once it's all over your face (and eyes) you wet your muslin cloth (each cleanser comes with a large muslin cloth. Extra cloths can be purchased in packs) and us...read moree that to both remove the cleanser and gently exfoliate your face. Instructions say there is no need to rinse, but I always rinse and find it necessary. This doesn't sting my eyes or face in any way, leaves my skin feeling clean, but not overly dry and that muslin cloth is so effective at sloughing off dead skin that seems to stick around even after traditional cleansing. This product is not tested on animals and contains no animal ingredients which is a great plus.

love it

great cleanser Highly recommend.

Back
to top