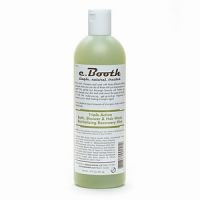 c. Booth Triple Action Bath, Shower & Hair Wash
As low as
Fresh, Fun Way to Cleanse and Renew

My husband uses this as a hair wash. He and I both love the clean smell (I stay with a moisturizing shampoo and conditioner). It also makes for an eye-opening shower in the morning or a truly relaxing bath at night. C. Booth has tremendous products!

Great value for 3-way product.

Loved the price point, loved that it is good for baths, showers and hair wash, as such is a great product for travel. Nice clean fragrance, not too flowery. Didn't dry out my skin and has a nice lather to it, as well. I've discovered C. Booth's products just in the last couple of years and they are a great value for the money and are gentle. Seems to do everything it promises.

21 Best Soaps

Exclusively from the editors at Total Beauty

Get the Buying Guide to see these top-rated products!

Get it now »

Great Smelling Multitasker!

This stuff is great! Wonderful smell fills up the bathroom. I use it for my 5 year old twin boys. They love the smell. Use it as a wonderfully foamy bubblebath, cleanser and shampoo. I have tried other products that say they're great for shower, bath and shampoo but have found they don't work as bubblebath. Busy moms and little boys (and girls) love bubbles! So I highly recommend this gentle and effective product.

Back
to top