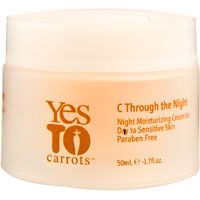 WONDERFUL, SOOTHING CREAM

I had seen this cream in the drug store, while previously searching for a new, natural, hypoallergenic night cream that would last through the night and not make skin feel tight, as many of them do. I cannot afford to pay mall/department store prices, and, frankly, even if I could, I probably would not. I hesitated buying Yes to Carrots because the name sounded weird (stupid reason, I know), and I...read more am really sorry I waited so long! This cream is absolutely wonderful. It has a great consistency, not too thin or too greasy, and absorbs well. It smells nice, too. Most importantly, IT WORKS! I have a fair, sensitive complexion, and am prone to breakouts from new products. I had no problems in this area. My skin feels soft, not greasy, not tight, just right. It looks radiant without being overly shiny. The packaging is cute, with the cute litlle carrot on the box and jar, and there is no waste. The jar is filled and of sufficient size to justify the price. I will try the day cream and eye cream next time I get paid. By all means, if you are looking for a drugstore-priced, natural-based, gentle an effective nught cream, try it. You won't be sorry.

I can't trust the Yes To brand

I got this cream as part of a value set from Target and I was so excited that I was going to get a night time moisturizer with an eye cream I was trying from the same line. In general, when you buy a cream that is labeled "Night cream", you assume it is thicker and more emollient and expect for your skin to feel hydrated after using. I don't recall it having a strong scent, but it was scented. I t...read moreried using it for a few weeks but just had to throw it away because it wasn't moisturizing my skin at all. I felt like I was just putting a layer of stuff on top of my skin and getting nothing from it at all, no moisture, no improved texture, nothing. After trying this product, their eye contour cream, and a lip balm, I can pretty much say that I won't be buying anything from Yes To again.

great night cream

so, in my local pharmacy the night cream and day cream came together at a bargain - first plus! It really is a briliant night cream. A little thicker than the day cream but wake up to lovely skin, I found that other moisturisers leave my already combination skin oilier in the oily places which left me wary to use any for the dry parts of my skin but this baby moisturised without any oils. Also, all the ingrediants are non-chemically so it is great overall for healthy skin!

Back
to top