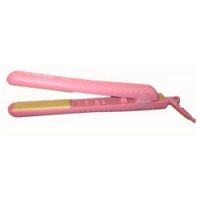 Not a good life span

I have has this straightener for 4 years. When I first got it, it was amazing. My hair was silky and wasn't getting tangled, it wasn't getting damaged. It was awesome. It wasn't until a year ago when i was starting to see damage in my hair andy ends were splitting like no other. I would need my ends cut every few weeks just to maintain it. It no longer leaves my hair soft and silky, and it definitely doesn't hold the style whatsoever. Time to upgrade!

Pretty Good Iron

I've been using this iron for about a year now. It was priced at around $90. I'd say it's better than the other two (cheap) flat irons I've own in my life. My hair does look shinier when i use it and it's very easy to manage and good for making waves too. I was really wanted one of their other fancier ones because it left my hair soooooo shiny, but I couldn't afford it. Still I like this iron, my ...read morehair looks great when i use it. Downsides, I don't know if it's cause I iron my hair with a fan blowing towards me (I don't have air conditioning and I live in a very warm climate, so i need to stay cool when i use these kinds of heating tools or else my own sweat will make the style go away very soon...) But it cools down a bit easily I think. Every time I look down on it the light that indicates it's hot flickers off and on (since I bought). And as is to be expected when you use heating tools, I've developed split ends which I dislike. Now I just use it once a week to make my hair really flat when i use my keratin mask and to tame my "baby" hair curls around my hair line and some unruly hairs on the back (very few). Overall, I'd recommend it (I know my brother takes it from me all the time D: ) Would like shinier results for the price.

pretty good

Its really not a bad product. i have been using it almost every day for the past 4 years and my hair is still shiny, and although a little dry and frizzled at the ends, it doesn't look bad. it is one of the better hair straighteners for sure, but is priced way too high. BUT here is the amazing part. you can use the to add gorgeous waves to you hair. that is one of my favorite things about this pro...read moreduct- 2 in 1. I would recommend it, but there are probably cheaper ones with the same quality out there.