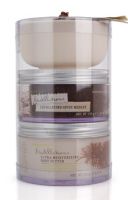 Smart Purchase

What is Aromatherapy Distillations Revitalizing - Skin Polishing Ritual? Contains Exotic Spice Medley (5.25 oz) Ultra Moisturizing Body Butter (8.8 OZ) with revitalizing lemon and coriander essential oils and conditioning mango seed butter, avocado and coconut; a ceramic bowl; and a wooden applicator. If you have been following our 31 stress reduction tips, you will know that I'm a bath and spa ...read morezealot, and Crabtree and Evelyn didn't disappoint. The heavenly spices are laced with an uplifting lemon, spearmint, and mandarin scent, while the ylang ylang and star anise adds an exceptionally delicate flavor to the blend. For an at-home treat at a reasonable price point, you can relax in the privacy of your own "spa." You choose how much spice and body butter you want to blend in the ceramic bowl. Since I am also an enthusiast of exfoliation, I mixed equal parts of spice and butter for an enchanting brew. After slathering my skin with my custom blend, the gentle exfoliation removed the dead skin, leaving my skin soft and supple. This is a smart purchase for under $50 for any woman who needs a gift of indulgence.

fun spa experience at home, can get messy though

I must admit, I was pretty excited to try out the Aromatherapy Distillations Revitalizing Skin Polishing Ritual by Crabtree & Evelyn. I immediately thought about the mini spa treatments I'd give myself with it on a regular basis. Ahh… good thoughts, indeed! This set comes with the Ultra Moisturizing Body Butter, Exfoliating Spice Medley, a cute little Clay Mixing Bowl and a handy...read more little wooden mixer thingie. So, the idea here is to mix some of the Body Butter with the Spice Medley and end up with your own custom blended exfoliating treatment. But, I did end up a bit let down after using it. The Ultra Moisturizing Body Butter was great. It's a rich and thick butter (reminiscent of the texture of cocoa butter) that's solid in the tub. Once you warm it in your hands, it softens and rubs in to the skin very well. On a side note, I will definitely use this product on my pitifully dry winter feet for an extra burst of moisture. Now, the Exfoliating Spice Medley was where I started to run into problems. It smells fine, kind of like nutmeg and cinnamon, but very faint. But, this part of the routine can get quite messy! I'm a bit clumsy at times, so I ended up with more of this stuff on my bathroom floor than in the clay mixing bowl. The Exfoliating Spice Medley is a deep brown in color and has, for lack of a better description, the texture of soft dried moss. The particles are difficult to mix well with the Ultra Moisturizing Butter and ended up sticking mostly to the outside of the clump of Butter I had in my bowl. After getting past all that, the exfoliation provided was nice and gentle. My skin was also left very moisturized afterwards. So, if you've got a little more elbow grease and coordination than I do, then check this product out!

Luxury in a snap!

You can set aside some 'me' time and mix this delicious blend for at home skin polish treat or for the woman on the go, it's a quick pick me up prior to a mani. The invigorating scent of lemon and coriander rejuvinates you and gets you ready for the day planned ahead. No time for even a quick 5 min hand exfoliation? Use the yummy body butter alone for moisturizer. I love this, but points taken off because it isn't recessionista friendly.

Back
to top