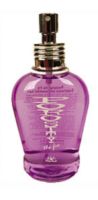 White Sands Porosity the Fix
As low as
helthy

helps fix damaged hair

Fab for restoring hair, adding shine!

White Sand's has a product they term "makeup for hair" which is Porosity the Fix. Think of it as a "concealer" for your hair. If you damage your hair, and you're working on fixing that damage (say with deep conditioners, trims, growth), Porosity helps make your health appear healthy in the meantime. I spray a 3-4 mists around my hair after rinsing out my hai...read morer color (whether it's bleach, permanent dye, vegetable hair dye, etc) then dry normally. Or if my hair is dry and I'll be using a curling iron or flat iron, I spray a bit of Porosity on my brush and run it through my hair before ironing. It really helps the cuticle lay flat and prevent flyaways. Be very careful not to spray too much as this product contains oils. It *will* make your hair flat and icky if you overdo it. Like I said, 3-4 sprays should do fine for mid-length hair. If you color or highlight your hair at home, I've also had excellent results by adding 2 sprays of Porosity into my color mixture. My color lasts longer, penetrates better and my hair comes out smoother & shinier immediately after coloring. Overall, I adore my bottle of Porosity. It is a professional product, but worth the money. Bionic will definitely be repurchasing!!

Back
to top