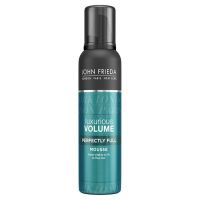 Love this!

I love this stuff, it's definitely much cheaper than the other thickening mousses. It does not leave a residue in my hair and it really works! It gives wonderful volume.

Absolutely One Of the Best

Definitely creates volume, shine and tames hair. This mousse has provided the closest at home salon results from any product I've ever tried (and I've been through enough). Great product for creating that wavy, tousled but blown out look. I have very long hair which is naturally curly and this tames my hair and always makes it look exceptionally sexy. Use this for a bed head blow out and you will ...read moreget strong lasting power. This product leaves your hair soft and shiny - there is absolutely 0 stiffness from this product yet there is a sort of hold. Also, you cant really overdo this product. You dont NEED a lot, but if you accidentally put too much in your hair it is VERY forgiving...even near the roots. That's one of my favorite things about this mousse. Oh and as an added bonus it smells absolutely fantastic...even if Im in a bar or club, guys always notice how great and clean this smells. Definitely protects your hair from smelly places. I can't think of any complaints about this product.

You've got to try this!

This iss great for oily hair, it gives volume and is light so your hair wont feel greasy or limp. i use it along with the John Frieda luxurious volume hair spray. Great combo!

Back
to top