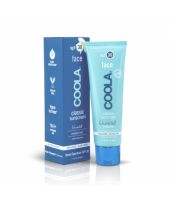 GREAT Summer Moisturizer!!

This is the perfect texture for a summer moisturizer....light, sinks in, and it seems like it lets your skin breathe right through it. I am NOT a sunscreen fan, but this is so incredible that I use it anyways (obtained it as a sample first). But the to-die-for part?? Smells like fresh cucumbers. This is the most heavenly part, as a girl partial to great scents. PLUS it is organic and does not...read more test on animals (why does anyone?). Definitely a keeper, I hope this is never discontinued!!

GREAT MOISTURIZER

has a perfect texture, excellent for boat days. I brought it with me on a boat day in south Florida and it left a cool and hydrated session on my face while under the sunny sun of Miami

Coola Ooo La La

Remember the days when sunscreen on your face typically involved white noses and the smell of sunscreen on your face? Well not anymore, Sunscreen has grown up, just like we did. It's now like moisturizer you put on after you've washed your face in the morning. It goes on silky smooth, and the only reason you even know you're wearing anything is because it smells SO GOOD! Just like the first time y...read moreou sprayed Cucumber body spray and liked the scent, that's how much you'll love the scent of the cucumber melon on not just your nose but on your whole face. And it lasts all day, even though reapplying it might happen just because it smells so good! So since we all need to wear it anyway, let's just sit back and smooth on some Coola sunscreen and enjoy the fact that not only do we smell good, we look good. Now and after the tan lines have faded. Ooo La La!

Back
to top