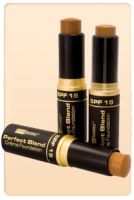 Black Radiance Perfect Blend Creme Foundation Stick with SPF 15
As low as
Flawless Look

I recently started using black radiant stick foundation and have found it to be very smooth. The thing I like about it most is that I can put it on and go all day without sweating through. I have been searching for a store that carrys the line but have been unable to locate one so far. I bought the product that I have in Texas years ago and have just go around to actually using it. Its great.... I love it! Brenda

A really nice foundation for women of color.

Pros: This stick foundation provides amazing coverage and does not budge throughout the day, presuming that it is applied modestly. I found it at Rite-Aid;I was very pleased with the color choices available. It was relatively inexpensive ($5-6) compared to other stick foundations on the market. Personally, I only use it as a concealer for dark circles and darkness around my mouth. Cons: It is ...read morean oil based foundation;It advertises itself as an oil-free product. The oil in the product is evident. A change in advertising is needed. I would probably die if I had to apply it to my entire face. I imagine that it must feel entirely too heavy if applied in full. If it is not followed with a powder, the oiliness of the product is visible on the skin. It is still a great product nonetheless. It would be better off marketed as a concealer instead of a foundation.